Prof. Dr. Regina De Vivie-Riedle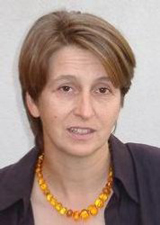 Butenandtstr. 5–13
81377 Munich
Germany
Tel: +49 (0) 89 / 2180-77533
Fax: +49 (0) 89 / 2180-77133
Email: Regina.de_Vivie@cup.uni-muenchen.de
Web: www.cup.uni-muenchen.de/pc/devivie/
Research themes
Projekt C02
Dynamik und Kontrolle photochemischer und -biologischer Prozesse: Verbindung von ultraschneller Dynamik und experimentellen Observablen
Wir untersuchen schnelle lichtinduzierte Reaktionen in Lösungsmittel- sowie struktu­rierter Umgebung. Hierzu gehört das Verhalten neuartiger Hemithioindigo Photoschalter in Proteinen und DNA sowie die Photophysik möglicher Teilfragmente der Melanine. Zudem wollen wir am Beispiel von Diphenylme­thylverbindungen unseren neuen QD/MD Ansatz erweitern. Wir verwen­den und entwickeln quanten­dynamische Methoden kombiniert mit on-the-fly und MD Simulationen zur Erfassung von Prozessen im fs- bis ns-Bereich. Unser Ziel ist eine atomistische Beschreibung, um Reaktionsmechanismen zu klären und chemische Synthesen in Kombination mit Licht zu optimieren.
Project C02
Dynamics and control of photochemical processes: linking ultrafast dynamics and experimental observables
We investigate fast light induced reactions in solution or in structured environment. To these belong the behaviour of new hemithioindigo photoswitches in protein and DNA as well as the photophysics of putative fragments of melanine. In addition we use diphenylmethylderivates as an example to improve our recent QD/MD ansatz. We apply and develop quantum dynamical methods combined with on-the-fly and MD simulations to cover processes from the fs to the ns regime. Our aim is an atomistic description to clarify the reaction mechanisms and to optimize chemical synthesis in combination with light.