Prof. Dr. Stephan A. Sieber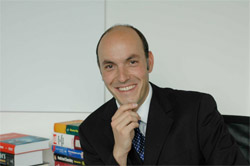 Lichtenbergstraße 4
85747 Garching/ Munich
Germany
Europe
Tel: +49 (0) 89 / 289-13302
Fax: +49 (0) 89 / 289-13210
Email: Stephan.Sieber@cup.uni-muenchen.de
Web: www.oc2.ch.tum.de/
Research themes
Projekt A03
Reaktivität und Bindungsdynamik von kleinen Molekülen in aktiven Zentren
Der Schwerpunkt unserer Forschungsarbeiten im Rahmen des SFBs ist die Untersuchung kleiner, elektrophiler Moleküle in Bezug auf ihre Reaktivität mit aktiven Zentren in Enzymen. Ziel der Untersuchungen ist es möglichst viele unterschiedliche Molekülklassen mit diesem Ansatz zu untersuchen und somit eine vergleichende Skala zwischen intrinsischer Reaktivität und biologischer Aktivität prominenter reaktiver Gruppen herzustellen.
Project A03
Reactivity and binding dynamic of small molecules in active centers
The focus of our research within SFB749 is the analysis of small reactive molecules and their interaction with enzyme active sites. The goal of this proposal will be the analysis of diverse structural motifs with these reactivity methods and the establishment of a global scale for the comparison between intrinsic and biological reactivity.