Prof. Dr. Thomas Carell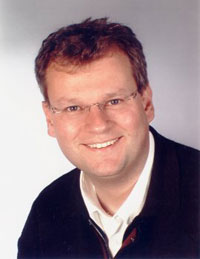 Butenandtstr. 5–13
81377 Munich
Germany
Europe
Tel: +49 (0) 89 / 2180-77750
Fax: +49 (0) 89 / 2180-77756
Email: Thomas.Carell@cup.uni-muenchen.de
Web: www.cup.uni-muenchen.de/oc/carell/
Research themes
Projekt A04
Dynamik und Intermediate von DNA Basenmodifikations-Prozessen
Im Teilprojekt A04 werden Mechanismen untersucht, die zur Bildung und Beseitigung modifizierter DNA Basen führen. Modifizierte DNA Basen sind z.B. DNA Schäden, die entstehen, wenn DNA mit elektrophilen Nitreniumionen reagiert oder wenn sie dem UV Licht ausgesetzt wird. Wir untersuchen die Mechanismen, die zur Bildung der Schäden im Duplex führen und wir versuchen die Mechanismen der Reparaturenzyme aufzuklären, die die Schäden aus der DNA entfernen. Neben den Schäden werden modifizierte Basen wie Hydroxymethylcytosin, Formylcytosin und Carboxycytosin im Genom von speziellen Enzymen hergestellt. Uns interessieren die Mechanismen der Bildung und die Funktion der neuen Basen.
Project A04
Dynamics and Intermediates of DNA Base Modification Processes
Project A04 investigates the mechanisms that are involved in the formation and repair of DNA lesions, which are mostly modified DNA bases. DNA lesions are for example formed upon reaction of electrophilic nitrenium ions with DNA or when DNA is exposed to UV-light. We investigate the mechanism that lead to the formation of DNA lesions and we try to understand the processes that allow repair enzymes to remove the lesions from the genome. Some modified DNA bases, such as Hydroxymethylcytosine, Formylcytosine und Carboxycytosine are generated by special enzymes. We study the mechanisms that lead to their formation and the function of the new bases.