2016 - SFB-Symposium at Kloster Irsee
08.-10.03.2016
The annual SFB 749-Symposium takes place at the Schwäbisches Tagungs- und Bildungszentrum Kloster Irsee from March 8th to March 10th, 2016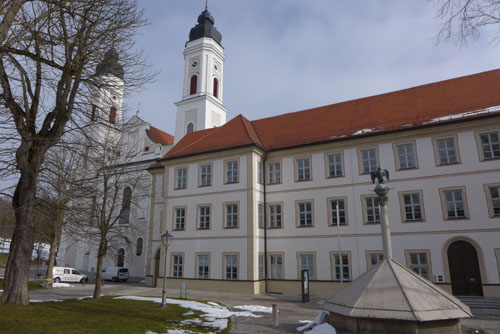 You find the program here.
Invited Speaker:
Prof. Oliver Trapp, Heidelberg
Dr. Rasmus Linser, Göttingen
Prof. Ashraf Brik, Technion Haifa, Israel
Prof. Ivan Huc, Bordeaux, France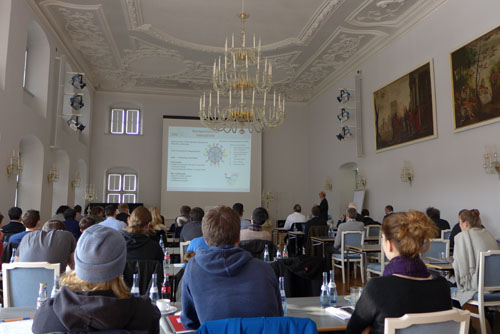 General Information
A bus transfer is organized to bring the participants to Irsee on Tuesday and back to Munich on Thursday.
The bus can be boarded at the Campus Großhadern (Feodor-Lynen-Str., in front of the building B) at 10:30 am on Tuesday March 8th.
On Thursday March 10th at 2:30 pm the bus leaves Kloster Irsee going back to the LMU campus.
Please register for the bus transfer by email.
There will be a guided tour through the monastery and the church on March 8th at 6:30 pm. Meeting point will be the entrance hall.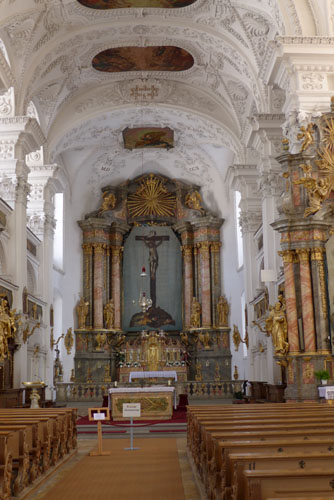 The rooms will be ready for check-in at 3 pm on Tuesday March 8th. It is possible to store the luggage in a separate room next to the reception.
The reception kindly asks to check-out until 10 am on Thursday.
Arrival by train
Please check the web site of the Deutsche Bahn for an individual travel schedule.
Arrival by car
Take the highway München-Lindau (A96), leave at exit Jengen-Kaufbeuren (22), follow the B12 in direction Kaufbeuren. Take exit Gablonzerstr. (direction Pforzen), pass the village Pforzen, cross the river and then turn left on B16 (Kemptenerstr.). Follow B16 until the next round about and turn right (direction Irsee)
Location
Schwäbisches Tagungs- und Bildungszentrum Kloster Irsee
Klosterring 4
87660 Irsee